MTV Shuga Naija Season 5, the highly anticipated series produced by the MTV Staying Alive Foundation, premiered at an exclusive event in Lagos on Thursday. The event featured a press briefing that focused on the issues addressed in the series, followed by a private screening of the new season.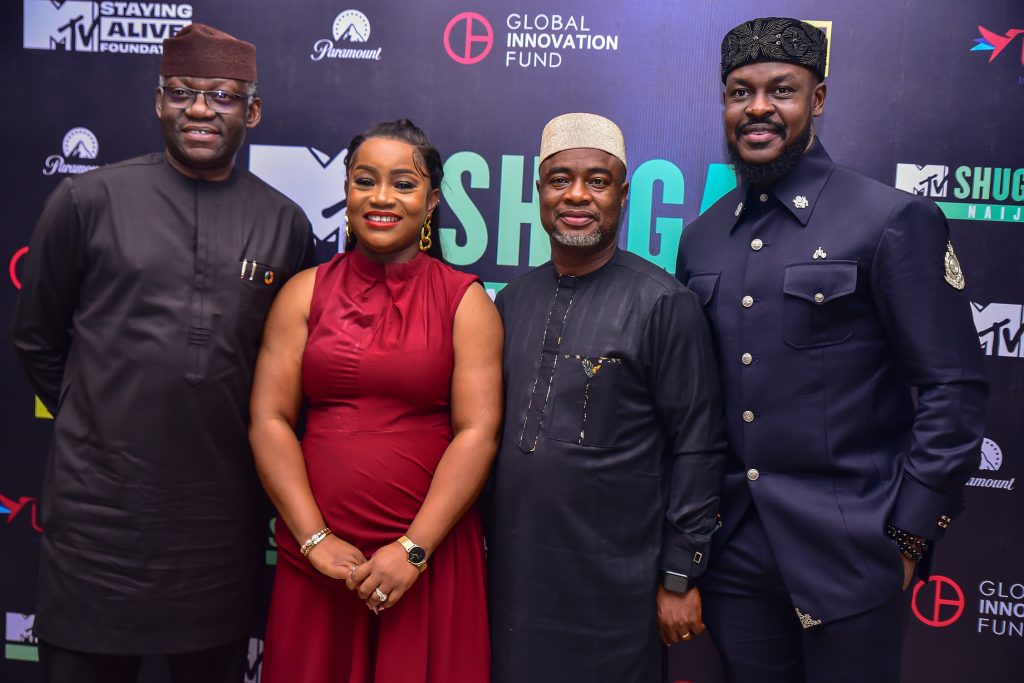 The new season combines an exciting ensemble of established on-screen legends and rising stars including Adesua Etomi-Wellington, John Njamah, Tomiwa Tegbe, Maggie Osuome, Okey Uzoeshi, Gbubemi Ejeye, Genoveva Umeh, Ilooise Omohimin, Sharon Jatto, Lexan Peters, Bolaji Ogunmola, and Susan Pwajok.
Big Brother Titans star, Kanaga Jnr. Eme, and Chioma Edak will be playing lead and supporting acts respectively, having come through the MTV Shuga Naija public auditions last year.
"This season, we have partnered with Unitaid, Global Innovation Fund, and Paramount to address issues on gender-based violence, COVID-19 vaccine confidence, women empowerment, modern contraception, as well as generate demand for the HIV self-testing kits now available in Nigeria," remarked Anita Adesiyan, Country Manager, MTV Staying Alive Foundation. "True to our ethos of promoting safer lifestyle choices and advocating against harmful cultural practices through entertaining drama, the new MTV Shuga Naija season will give our viewers a broader perspective on everyday issues that affect young people as they try to find their place in the world," Adesiyan added.
The eight-part series, produced in partnership with 1Pod Pictures – a female-led production company out of Nigeria – is set for a May 7 African premiere on MTV Base (DStv Ch. 322 and GOtv Ch. 72) at 21:00 WAT/22:00 CAT. In addition, the show will be simulcast on MTV Base in South Africa and debut on BET Africa (DStv Ch. 129 and GOtv Ch. 21) at 21:00 WAT/22:00 CAT from Wednesday, May 10.
"We are incredibly excited to be showcasing the highly anticipated new season of MTV Shuga Naija on our channels, MTV Base and BET. As a network that is committed to engaging with and empowering young people, we recognise the immense impact that this series has in promoting positive behavioural change and sparking important conversations on social issues. With a compelling storyline and relatable characters, we can't wait for our audiences to tune in and experience the magic of this new season," commented Dr Bada Akintunde-Johnson, Country Manager, Paramount.
The new season follows the story of Moh (Gbubemi), a bright young woman who must make a difficult decision when her parents force her into an arranged marriage with an older man and her family's benefactor.
Speaking on Unitaid's role in supporting initiatives like MTV Shuga Naija and the key role of partnerships in accelerating the progress towards ending HIV/AIDS, Dr Philippe Duneton, Executive Director, Unitaid, said, "New developments in health technologies can make real change in the lives of young people – but only if they know what the risks are, and how to protect and treat themselves. Unitaid is delighted to support another season of MTV Shuga, which is critical to reaching youth with those messages and advancing global health."
With MTV Shuga Naija having been widely praised for using novel storytelling to tackle social issues, Rachna Nag Chowdhuri, Senior Vice President, Impact at Global Innovation Fund, stressed the importance of social innovations in improving the lives of millions across the continent saying, "At GIF, we believe that women and girls must be the protagonists in their own lives and our work – focusing on Innovating for Gender Equality – supports social innovations with the greatest impact on shifting gender norms. This new season of MTV Shuga Naija is a fantastic example of that as it addresses many difficult topics on gender-based violence and gender equality, backed by a great track record and solid evidence of impact. What's more, the series is not only promoting gender equality through its content but also in the media industry by partnering with local female-led production companies and creating opportunities for female talent across the production."